This is the page to  learn to read music in Treble Clef (G Clef) with alphabetical notation (A B C D E F G). If you want to learn to read music in syllabic notation, follow Do Re Mi Fa Sol La Si/Ti. If you want to learn to read the music notes in Bass Clef (F Clef), follow this link.
SHOW/HIDE TABLE OF CONTENTS
2 Music Notes :
C

and

G

Play the video to learn to read your first 2 music notes now !
Do you need some help after watching the video ? Check out the link How to Learn to Read Music with Color Notes from Happy Note!'s Videos
See and download the 32 musical readings (PDF)
Scroll down for more videos with more music notes. You should also play with our free online game Read Music Notes HN: from 2 to 17 notes, it uses the same color notes as the videos and is designed to go with them (or vice versa!).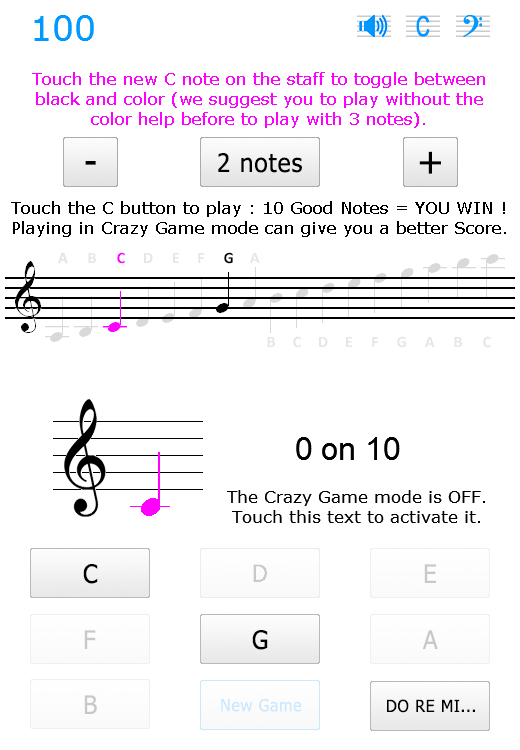 Do you need some help with Staff and Treble Clef ?
If you don't know anything about the 5 lines of the staff (or stave) and the Treble Clef on the second line of the staff, the image below could help you: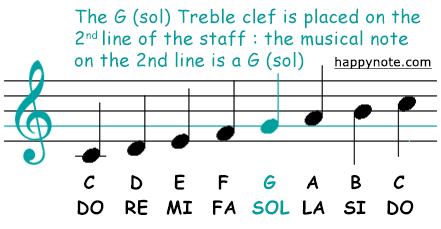 You can learn more and have fun with our mini online interactive tutorial Staff and Treble Clef: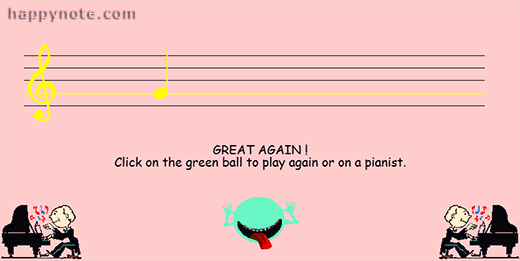 You can also read about the 5 lines and 4 spaces of the staff and how the G (Treble clef) fixes the name of the music notes (A B C or Do Re Mi). These links and others are available inside the Main Menu, Music Theory (except understanding the staff and the treble clef, you don't need to learn music theory to read music notes).
3 Music Notes – New Note : E
See and download the 32 musical readings (PDF)
4 Music Notes – New Note : D
5 Music Notes – New Note : F
6 Music Notes – New Note : A
7 Music Notes – New Note : B
8 Music Notes – New Note : C
See and download the 32 musical readings (PDF)
9 Music Notes – New Note : D
10 Music Notes – New Note : B
11 Music Notes – New Note : A
12 Music Notes – New Note : E
13 Music Notes – New Note : F
14 Music Notes – New Note : G
15 Music Notes – New Note : A
See and download the 32 musical readings (PDF)
16 Music Notes – New Note : B
17 Music Notes – New Note : C