Ear Training is fun and easy with Play It By Ear HN, a video game that teaches you to recognize any music notes you hear (Functional pitch recognition) in Treble Clef and Bass Clef. So, feel free to say good bye to boring old musical dictation and music lessons: ear training has just become fun!
A Truly Ear Training Educational Game that's Easy to Customize
No previous knowledge of music is required to play with Ear Training Play It By Ear HN. You can make the game as easy or as hard as you wish: it can be customized to meet everyone's needs.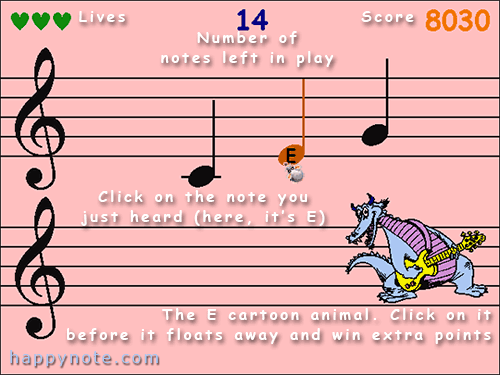 Download Ear Training Play It By Ear HN
You can customize the music notes to learn or improve, the number of notes to play, the number of Lives, the background color, etc. The cartoon images for each good note are optional. You can play in Treble Clef (G Clef) and Bass Clef (F Clef)  both with alphabetical (A B C…) and syllabic (DO RE MI) musical notation.
Choose Between Ear Training for Specific Music Notes or Follow the Pedagogy Menu
You can let the Pedagogy menu help you progress step by step (it is the same Pedagogy menu as in Sheet Music Treble Clef and Bass Clef HN), but you can also select yourself the music notes you want to play with.
You can choose between the syllabic (DO RE MI…) and alphabetical (A B C… – or A H C for German speakers) musical notation systems. With a simple click, you can also decide how many lives and bonus points you'll start the game with and how many music notes you'll have to hear and recognize to win.
While playing, if you don't recognize a music note the first time, no problem: press the Space bar to hear it again! You can also ask Ear Training Play It By Ear to help you by playing an A. Finally, if you still don't know, the game will give you the answer. Again, all you have to do is ask!
A Real Ear Training Video Game with Lives, a Cartoons Option, and a Hi-Score List
You can of course win extra lives while playing (we'll tell you how!). But that's not all. If you turn the Cartoons option on, each time you correctly identify a music note, the moving picture of a cartoon animal pops up on your screen. If you manage to click on it before it floats away, you win extra points (each note has its own cartoon animal: so a new image is your reward for each new note you learn!) This is a great way for children's ear training !
At the end of each game, Ear Training Play It By Ear HN displays the names of the ten best players: that's the Hi-Score list. The number of points you win for each good guess depends on how many music notes to play with you've selected at the beginning. So the further you progress, the higher your score can be, and the better your chances to make the Hi-Score list!
Learn More About Ear Training
Learn more about recognition for functional pitch, interval, chord recognition, etc.