From this page, everybody can learn to read music notes EASILY and QUICKLY, for FREE.
Let's go right now!
test
Music Note? Staff? Clef?
Confused about music notes? You don't know what is a staff or a musical clef? Try our two minutes fun interactive mini tutorial, Staff and Treble Clef: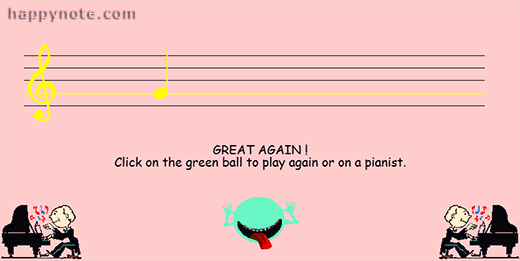 Or just keep reading this page and check the two annotated images about G and F clef below.
What Clef do You Need to Learn to Read the Sheet Music of Your Instrument?
The G  clef, called treble clef, is used on sheet music for piano (right hand), guitar, violin, flute, oboe, clarinets, saxophones, horn, trumpet… For the singers, the Treble clef is used with the following voices: tenor, contralto, alto, mezzo-soprano, soprano.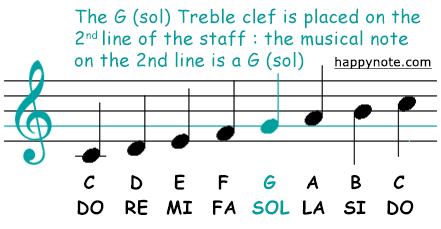 The F clef, called Bass clef, is used on sheet music for piano (left hand), cello, double bass, bass guitar, bassoon, trombone, tuba, timpani… Baritone and bass voice use the Bass clef too.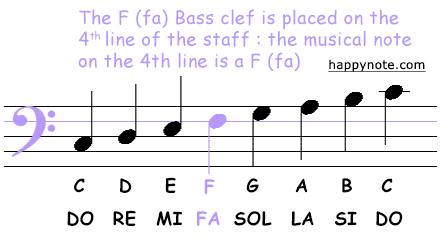 How do You Want to Name the Music Notes: A B C D E F G or DO RE MI FA SOL LA SI?
Mainly used in Anglo Saxon countries (and so in jazz), the alphabetical musical notation uses the letters of the alphabet: A B C D E F G.
The Syllabic musical notation – DO RE MI FA SOL LA SI – is used by Italian, Portuguese, Greek, French, Russian, Flemish, Romanian, Spanish, Hebrew and Turkish people.
A = LA
B = SI
C = DO
D = RE,
E = MI
F = FA
G = SOL
To learn more, follow name of music notes.
test
How to Learn to Read the Notes in a Progressive and Easy Way with Color Music Notes?
Right now, we are going to name the notes both "A (la) B (si) C (do) D (re) E (mi) F (fa) G (sol)  and use the treble clef. But you'll find four links at the end of this page, to choose between G and F clef, A B C and DO RE MI name of notes.
Let's Go: Your First Music Reading With a Color Note!
Your first music (musical) reading is the "2a" with only C (do) and G (sol). "2" means 2 different notes, "a" means the new music note to learn, here the C, is in color.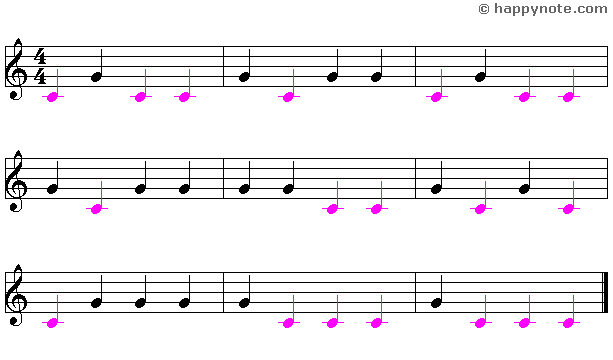 You must say or better sign the name of the note exactly while you hear it. This way, not only you're going to learn to read music, but also learn to "keep the beat". That is, reading a sheet music without speeding up or slowing down. This is something that is truly essential when playing a musical instrument.
The Same Notes, but without the Help of Color Music Note
When you can read easily the "2a" musical reading, it's time to read the "2b".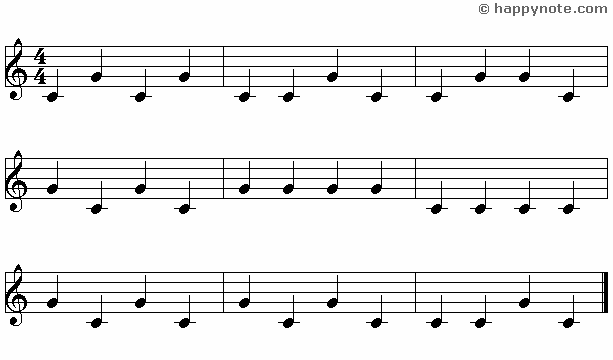 The "b" musical readings never add a new note to learn. But the previous color note is always in black. Now, you must read the C note without the help of color.
Again, you must say or better, sing – this way, you're also making ear training! – the name of the note exactly when you hear it, not before or after.
Same thing for your next musical readings: "a" reading  with color note, "b" music with black note
When the music reading "2b" has became easy for you, you can learn to read a new music note. After the "2b" musical reading, there is the "3a". "3" meaning three notes, "a" meaning the new note to learn is in color.
The new music note to learn in the "3a" musical reading is the E (Mi)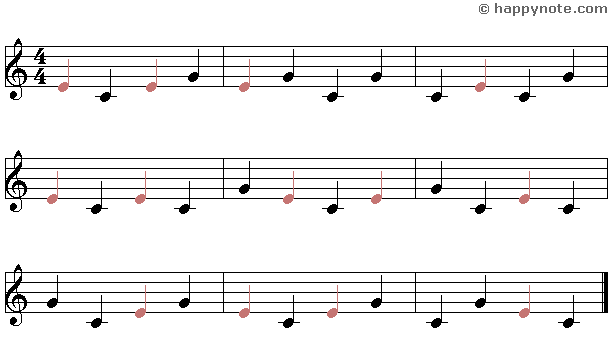 You must read the music notes of each musical reading easily and without hesitation. Ideally, when you're telling the name of a note, you should already being looking and reading the following one.
And then, you can go to the "3b" reading, where you've to read the E (mi) note without the help of color.
When you can read this "3b" musical reading in treble clef with ease and confidence, go to the "4a" to learn the D (re):
As this point, you understand how it's easy to learn to read music with the "a" and "b" musical readings. And in addition, we offer you others options below.
test
Choose your favorite way to learn
– I just want to keep learning this way
Choose your link below. Or even better, select it by using the main menu of this page, option Free Musical Readings.
– I want more choice for the speed of each music reading
You find the readings too slow or too fast?  Have a look at Read Music Notes Sing'n Learn HN. The program offers a choice of 5 different speeds: Largo, Adagio, Andante, Moderato, Allegro. Available with Windows 10, 8, 7, Vista, XP.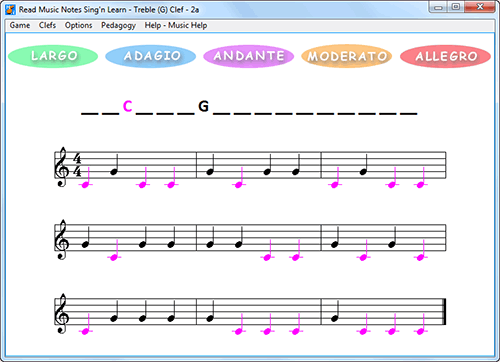 – I want something with more fun, and choose with one click the notes to learn
Sure! Try our video game Sheet Music Treble Clef and Bass Clef HN with tons of options.  Available with Windows 10, 8, 7, Vista, XP.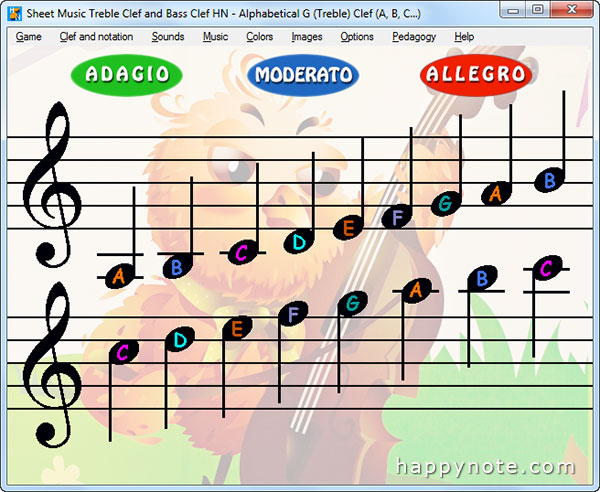 – I want a free application for my smartphone or my tablet
Try Read Music Notes HN. You can play online or download the Android version on Google Play. And there are direct links to the musical readings, from "2a" to "17b".