The Carnival of the Animals (Le carnaval des animaux) is a humorous musical suite of fourteen movements by the French Romantic composer Camille Saint-Saëns. The work was written for private performance by an ad hoc ensemble of two pianos and other instruments, and lasts around 25 minutes. The finale was set to comical animation of a flamingo playing with a yo-yo to the irritation of his fellow avians in a segment of the Walt Disney Animation Studios animated feature Fantasia 2000. – Yuja Wang
There are 14 pieces, each one is dedicated to an animal:
Introduction and Royal March of the Lion
Hens and Roosters
Wild Donkeys Swift Animals
Tortoises
The Elephant
Kangaroos
Aquarium
Characters with Long Ears
The Cuckoo in the Depths of the Woods
Aviary
Pianists
Fossils
The Swan
Finale
Carnival of the Animals: Fantasia 2000 (Disney)
From Disney's Fantasia 2000, Saint-Saens's The Carnival of the Animals, 14th and last piece
"Finale": Pink Flamingos + Yoyo = Lot of Fun !!!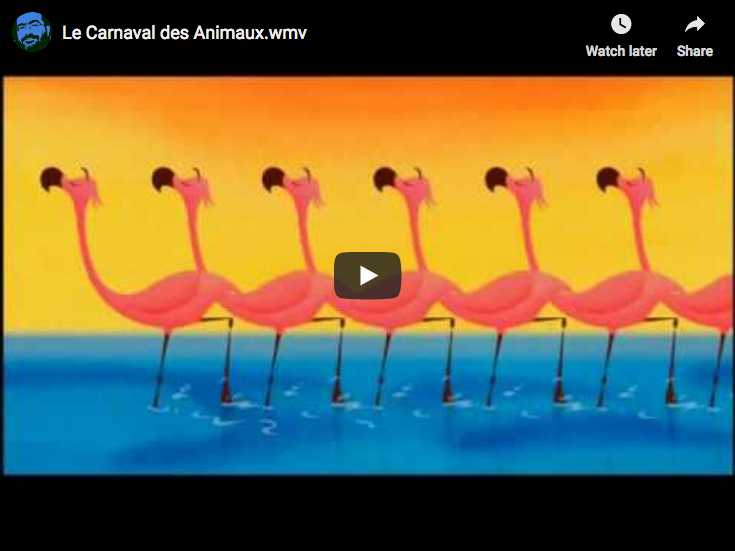 The Carnival of the Animals: Other Performance
Martha Argerich
More videos by Martha Argerich